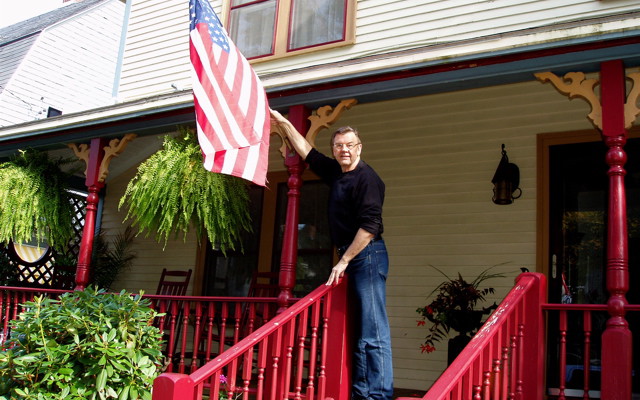 Reflecting On The Season: Bar Harbor 2013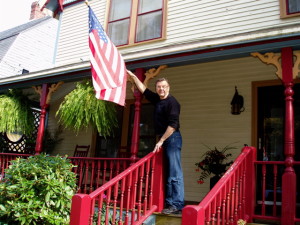 This time of year brings an odd mix of melancholy and anticipation for me. At the end of October, I close Maples Inn for the season and embark on myriad activities to wind down the season before retreating to my winter life in Chicago. Each year is a bit different here in Bar Harbor, based the weather, the economic climate, new businesses in town, and of course, our mix of guests. As innkeeper, my role is to be sure that my guests have all their needs taken care of in order to enjoy a relaxing and rejuvenating stay. The B&B experience is very different from a hotel, and our guests appreciate the personal touches. In fact, this season we had more repeat visitors than ever — some returning for their 10th or 11th time!
Food is love, it's said, and we do love our guests, so we feed them well. We introduced a new different breakfast this year, a 3 Cheese Soufflé, that's become a crowd favorite. It's topped with fresh local tomatoes and basil and accompanied by an English muffin and sausage to provide plenty of energy for the day's activities. Repeat guests always ask for our famous Blueberry French Toast, so we serve it every week — at least once.
The weather: While overall the season was slightly cooler than average, we had superb weather to enjoy the outdoors once the season got going … after a rainy May and early June, July and August had lower-than-average rainfall. While some visitors needed an umbrella to enjoy the Carriage Roads in September (>6″ compared with 4.45″ average), a stunningly bright and very dry October required only sunglasses and energy to make the most of the spectacular weather.
The guests: We enjoyed both new and returning guests this season, from across the US as well as Canada, the U.K, Switzerland and Germany. We celebrated two candlelit weddings in our living room and another is planned for our front porch next week. Honeymooners and returning brides and grooms also allowed us to share their joy this season; many couples returned to the Inn to celebrate anniversaries, often booking the Red Oak Room with its private balcony.
The town: While it's rare to have a guest not ask about the best places for lobster, after several days I'm often asked for restaurant suggestions featuring specialties that don't come from the sea. I'm happy to recommend Opa, a new Greek/Mediterranean restaurant that opened this season and offers fabulous food in an intimate space on Cottage Street. The menu offers some traditional Greek dishes (including my favorites, the spanakopita and the moussaka, recipes from the owner's mother) and a provides a Mediterranean spin on other dishes (including the delectable marinated New Zealand lamb chops accompanied by locally sourced roasted vegetables and potatoes). The decor is charming, with paintings and signage designed by the owner's mother and comfortable tables and banquettes hand crafted by the owner himself.
We're booked solid through the weekend but do have a few vacancies before we batten down the hatches and take down the flag on October 27. Call us to reserve your room for next week or next season … our reservation book is set up for 2014. And hint, hint — a gift certificate for a future stay is a great holiday gift. We'd love to see you next season.
Warm regards,
Mark
Share This