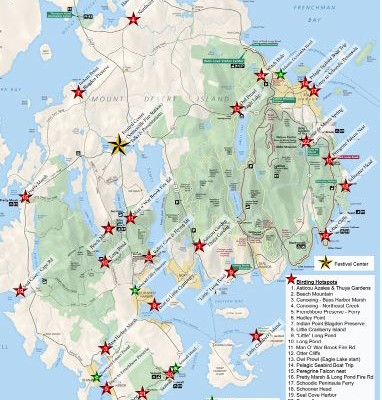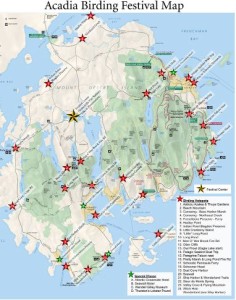 Early Season Birdwatching in Acadia
The Acadia Birding Festival is an event for birdwatchers like no other. In fact, it's an event like no other even for non-birdwatchers. Truly like stepping into another realm, this Mount Desert Island event celebrates sights and sounds rare in today's hectic, plugged-in world. This year, the festival takes place May 30 through June 2, 2013.
The map at left highlights "hot spots" for seeing the immense varieties of birds in the area, to explore on your own, with a guide, by water or on foot.
Day trips
Tours of various sorts offer field trips by land and sea, including hikes, van and boat trips within the park. The array of wildlife is astounding, including falcons, puffins, warblers, razorbills, gannets and fulmars. Some of these trips are already filling up, so if you want a guided experience, register now!
Talks and workshops
If you are interested in increasing your knowledge of the aviary bounty, daily talks and workshops are available. Budding photographers or videographers may wish to consider Point and Shoot for Wildlife. Birding aficionados who appreciate the astonishing variety of sounds these birds produce may be interested in Birding by Ear. Seabird ID workshop offers everyone a chance to increase their ability to recognize various species of birds in the wild.
Rest and rejuvenate
To continue the peaceful spirit of your visit, join us at Maples Inn where we pride ourselves on classic tranquility. Relax on our front porch. Sample our delicious baked good at afternoon tea. And enjoy any of our beautifully decorated rooms, each of which include a queen size bed with a fluffy down comforter and a private shower bath. We look forward to seeing you.
p.s. The weather forecast is finally looking more like the date on the calendar — so join us for a beautiful summer weekend. Book now!
Share This