Savor Bar Harbor's Autumn Riches: 10 Ideas To Keep You Happily Occupied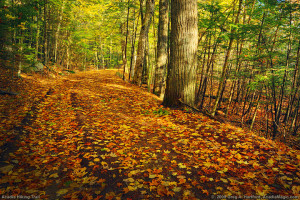 Once the initial bustle of Labor Day wanes, we're often left with a sense of loss; summer is past, the days are getting shorter, and we're focused on commitments and task lists rather than carefree summer jaunts.
But autumn in Bar Harbor is a treasure, with sunny days, smaller crowds, and plenty of activities to keep you happily occupied.
Find a few of our suggestions below.
1. Enjoy the crisp air and explore Acadia's hiking trails during the warm part of the day, amidst magnificent foliage. While peak colors are generally seen in mid-October, the leaves are already boasting brilliant hues and the views of the water and surrounding mountains are food for the soul. Climb the old fire tower at the top of Beach Mountain for a breathtaking view of Northeast and Southwest Harbors and the Cranberry Islands in the distance.
2. When in Maine, as they say, do as the Mainers do. We don't limit our ice cream intake to the sizzling days of summer. So toss on a sweatshirt or fleece, pause for a few moments and watch the world pass by while indulging in a locally-made creamy treat.
3. As the days grow shorter and temperatures cooler, birding enthusiasts can expect to see spectacular displays of birds in their migration to their winter homes. Two of our favorite areas to see the hawk migration are Beach Mountain and Cadillac Mountain. Bring along your binoculars to Witch Hole Pond, Eagle Lake and Jordan Pond for beautiful songbird migrations. Acadia National Park also offers ranger-led bird walks through late fall.
4. Savor the later sunrise and take time to enjoy a bit more conversation over a hearty gourmet breakfast at the Inn. Food is love, after all, and we take great pride in preparing freshly made epicurean spreads for our guests. Tasting is believing; just ask our guests!
5. In your eagerness to take in the expansive magnificent Acadia National Park, you may need to hustle a bit. The free Island Explorer bus runs through Columbus Day and loops from various park locations to the village of Bar Harbor, Northeast Harbor and Southwest Harbor. You can even bring your bike aboard!
6. Between your outdoor forays, amble through the local Bar Harbor shops. Great values can be found as merchants seek to reduce inventory before closing for the season, and most shops are open through the end of October.
7. Perhaps your muscles are a bit tired from your Cadillac climb or bike ride on the carriage roads. The warm sunny days of summer beg for outside time, but a late afternoon spa treatment in October is an autumn pleasure. Specialty treatments and packages are available and there is nothing more relaxing than a massage!
8. You may be surprised that Maine's landscape is hospitable for growing grapes, but our local wineries don't limit their wine making forays to a single fruit. As cocktail hour approaches, consider visiting a winery for a tasting of wines crafted from apples, blueberries, pears or raspberries. For those who prefer an ale or lager, local breweries also offer tastings and microbrewery tours.
9. There's something about cooler weather that enhances the appetite, and the local restaurants are ready to meet your needs with farm to table offerings including local vegetables and seafood. Enjoy a leisurely meal by a roaring fire or dig in to a lobster feast while the prices are a bargain. End the evening with an Irish coffee or a cup of steaming cider made from local apples.
10. Round out your visit by taking in some of the local culture of the region. The Abbe Museum offers ongoing exhibits and events on a variety of topics including the local Wabanaki and other Native Americans of the area. If you prefer visual arts, check out the First Friday art walk on October 4 to explore the creative works of local artisans.
Ready to visit? We have limited availability over the next several weeks, but please give us a call if you'd like to book a night or two. Our quiet season rates start October 13 and we'd love to have you finish out the season with us; we have several rooms available the week of October 20. Call us to reserve: 207-288-3443.
Share This