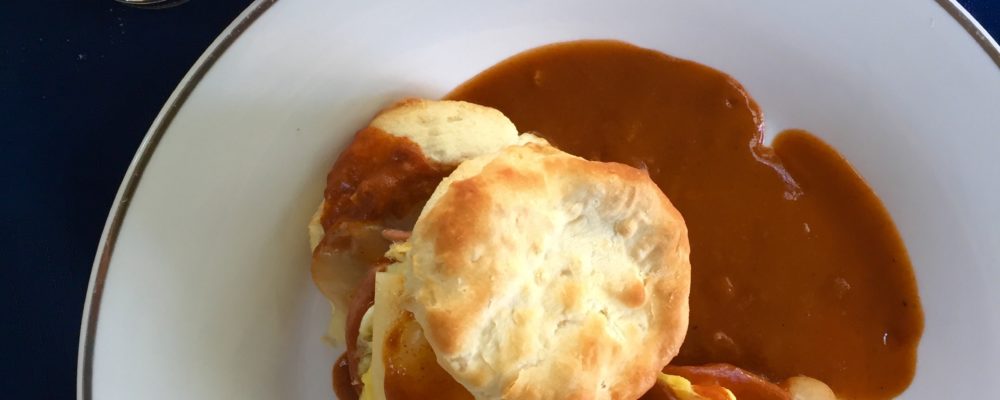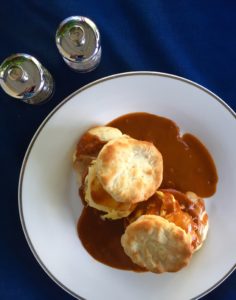 At the inn, we serve this sauce in a breakfast dish called The Santa Fe Trail. It's our take on a Southwestern Eggs Benedict: fluffy homemade biscuits topped with eggs any style, Canadian bacon, and local melted cheese, all smothered in Matt's New Mexico red chile sauce.
This velvety, flavorful sauce can also be served over beef or chicken, and in traditional Southwestern dishes like enchiladas. It's versatile, so be creative and enjoy!
Ingredients
4 cups water
3 Tbs. red chile powder (we use medium hot New Mexico red chile powder; we get ours from www.thechileguy.com.)
2 tsp. garlic powder
1 tsp. ground oregano
1 tsp. ground cumin
1 tsp. Cajun seasoning (we use Slap Ya Mama from Louisiana)
1 1/2 tsp. Better Than Bouillon chicken base
Directions
Combine ingredients in saucepan. Bring to a boil, reduce heat, and allow to simmer for 5 minutes.
Separately, in a larger sauce pan, melt 2 Tbs. butter.  Whisk in vigorously a 1/2 cup flour and continue whisking to create a roux. Whisk constantly. Once it turns golden brown and you get a nutty aroma, add chile liquid from the other pan and vigorously whisk together. You can also blend in a blender guarantee your sauce is silky smooth.
Then cook sauce for an additional 5 minutes at a simmer; stir constantly, do not allow to stick. Cook until there is no floury taste to the sauce.