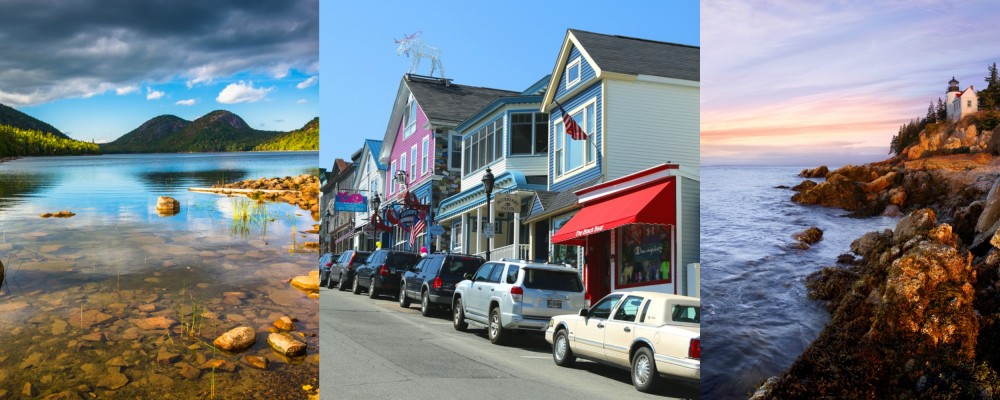 Here are a few suggestions of our favorite things to do and see on MDI this year. And remember: Matt and Leigh are always here to answer questions, make suggestions, and help you plan the richest, most enjoyable visit possible. Send us an email at info@maplesinn.com or call us at (207) 288-3443 to chat about your visit.
1. Get out on the water! There are so many ways to experience Frenchman Bay, the Atlantic, and the many beautiful ponds and lakes of Mount Desert Island. From whales and wildlife, to lighthouses, to sea and pond kayaking, to a few fascinating hours aboard a working lobster boat or 19th century schooner, MDI has it all. Ask us for suggestions about ways to enjoy the grandeur and richness of the area on the water.
2. Spend the day in town! Peruse shops and galleries on Main Street and explore the village on foot. Stroll along the historic and scenic Shore Path in downtown Bar Harbor, and take in the expansive views of Frenchman Bay, Bar Island, and the Porcupine Islands. Walk across the sandbar to Bar Island and enjoy nature trails and stunning views of Acadia, its mountains, and downtown Bar Harbor. Take a peek inside St. Saviour's on Mt. Desert Street to see the exquisite stained glass windows designed by Louis Comfort Tiffany.
3. Acadia, Acadia, Acadia. The things to do and wonders to see are too numerous to list. Start out at the Hull's Cove Visitor Center and drive the Park Loop Road to get oriented. Be sure to bring maps and guidebooks (we have plenty for your use at the Maples), or better yet, take a guided tour with one of the fine tour operators located in town. Be sure to take in the sunrise from atop Cadillac Mountain, stop by the Wild Gardens of Acadia, hike Acadia's many trails, walk, or bike the carriage roads, visit Otter Cliff, Sand Beach, Thunder Hole…we could go on. And we'd be happy to, just ask us for more suggestions!
4. Visit "The Quietside" of the island. Take a coastal drive that meanders through swaths of Acadia, quaint villages, and along Somes Sound. Visit the towns of Seal Harbor, Northeast Harbor (while you're here, head down Sargent Drive, which is easily one of the prettiest drives on the island), and Southwest Harbor, with their shops, restaurants, and iconic views of Maine's landscape and livelihoods. Watch lobstermen (and women) at work, and don't forget to visit Seawall and Bass Harbor Head Light before heading back to Bar Harbor in time for dinner.
5. And don't forget to visit AcadiaMagic.com, a beautiful web site and comprehensive resource for planning your trip to Bar Harbor. Visit the Bar Harbor Chamber of Commerce for a calendar of upcoming events, festivals, and more!