Bar Harbor's Festivals – from Flavors to Feathers 
Bar Harbor's festival season has begun! With the trees greening up and more flowers in bloom each day, the town is a feast for the eyes. Two early season celebrations offer feasts of bounty for nature lovers and foodies alike.
The 4th Annual Taste of Bar Harbor is a four day foodie extravaganza showcasing Bar Harbor's fabulous chefs and eateries. In addition to the grand events below, participating restaurants will be offering a special $20.14 price fixe menu all festival long.
"Eat dessert first! The festival kicks off on Thursday, May 15th with Dessert Night (6 pm – 9 pm). Savor the unique flavors from participating restaurants' signature desserts and vote for your favorite.
TGIF! On Friday, May 16, celebrate the weekend with the Pub Tour beginning at 5 pm. Armed with your special event beer glass, wrist band and tickets, enjoy the flavors of the featured beer or wine at participating restaurants.
Dine like royalty. Enjoy an exceptional culinary flavor fest! The popular Chef's Table event features a five-course dinner with wine pairings. Available at only four exclusive restaurants on Saturday, May 17. Your experience will also include chef-sponsored tours, demonstrations and recipes.
Bring home a taste of Bar Harbor from the Sidewalk Stroll which takes place on Saturday, May 17. Local merchants offer spring sales, culinary and locally-made products and nibbles.
Farm to table. New this year, Eden's Farmer's Market joins the festival on Sunday, May 18. Amble among vendors and peruse offerings from local food growers, producers and artisans.
~~~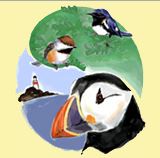 The 16th annual Acadia Birding Festival takes place Thursday,  May 29 through Sunday, June 1. This event offers a more robust variety of experiences than all other birding events in Maine.
The jam-packed schedule includes a grand mix of guided excursions via boat, walking trail and bus, as well as lectures, workshops and talks. Most trips are limited to 12 or fewer participants and all feature guides who offer knowledge based on years of birding experience. For more information and registration for trips, see the Acadia Birding Festival website.
P.S. Maples Inn early season special values are still in effect. Beat the crowds and save! Learn more.
Share This